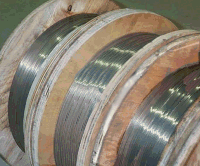 Our products encompass a broad spectrum of materials including Aluminum, Copper, Nitinol, and Stainless Steel, specifically Titanium and Alloys, Nickel Titanium, Aluminum, Music Wire, Brass, Bronze, Copper, Copper Alloys, Nickel, Nickel-Iron, 300 series Stainless steel, and carbon steel.
We offer Phosphate, Copper, Nickel and other wire coatings along with Mirror finishes. We can assure Cast, Camber, and Twist control and also offer Fin-Free Corners at any degree of sharpness.
Lastly, MicroDyne offers close tolerances and Short Run and Express Processed orders are always welcome.